Amy

Explore the Best of China Guilin Travel Guide
2022-11-11
Li River Introduction
The Li River is a picturesque river located in the north of the Guangxi Zhuang Autonomous Region of China. It stretches for 437 kilometers from Maoer Mountain, joins the Xi River at Wuzhou, and finally flows into the Pearl River in Guangzhou and the South China Sea.

Li River Scenic Area refers to the most famous section of the river, about 83 kilometers between Guilin and Yangshuo. It is famous for its breathtaking scenery of karst mountains, crystal-clear water, and unspoiled villages. The most representative landscapes of the entire journey are Nine-horse Mountain(九马画山) and Huangbu Reflection (黄布倒影), which has been the sample picture on the back of Chinese 20-Yuan Banknote.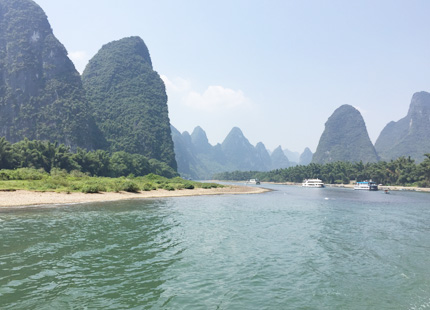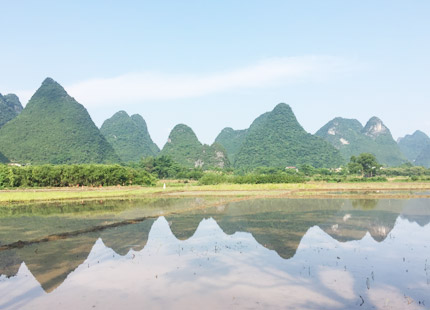 How to Visit Li River
The main ways to travel the Li River are by boat, bamboo raft, and on foot. For most sightseeing tours, a leisurely cruise trip (4-5 hours) from Guilin to Yangshuo is the most-used way to visit Li River. The whole journey takes about 4.5 hours from Mopanshan Pier to Yangshuo Longtoushan Pier in a slow pace. The new boats offer covered, airconditioned cabins, open decks, making the trip comfortable and enjoyable.

Bamboo rafting is favored by youngers these years. It is a gentle type of rafting, rather than an exciting one However. And it is subjected to be cancelled in heavy rains or high-water periods. Travel route is limited to short sections between Yangdi-Xingping to enjoy the important sights of Jiuma Mountain, and Huangbu Reflection. Rafting ride is only available in the early morning, noon hours or late afternoon, before and after the arrival of boat cruises (in consideration of safety).

Li River is considered as one of the most beautiful hiking routes in China. Don't miss it if you are outdoor enthusiasts. You can taste a 2-hour walking, 5-hour moderate hiking to the most beautiful part, or the whole journey in 2-3 days. Plan it to your own physical conditions.

Tours include Li River
Here are some sample tours for your reference.
Guilin Day Tour – Li River Cruise, West Street and Countryside of Yangshuo
Guilin Day Tour of Li River Bamboo Rafting and Xingping Town
Travel Tips for Visiting Li River
1. Plan your visit in advance. Boat tickets are always fully booked.
2. Boat trip from Guilin to Yangshuo is one way. You need to plan your return transport (private transfer or bus) if base your trip in Guilin city (For your reference: Guilin – Yangshuo private transfer)
3. There are 4-star and 3-star boats available, but no big differences in onboard facilities. 4-star boats offer buffet lunch, and 3 stars offer box lunch. (Book tickets only: know more about 4 star ships and 3 star ships.)
4. Keep your package light for the journey to avoid taking luggage up and down the steps at the wharf.


Get a quick answer from ETripChina team
Contact Us

online customer service
Mon-Fri 9:00-18:00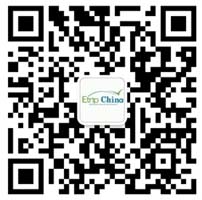 0086 773 5842555
Mon-Fri 9:00-18:00
email:contact@etripchina.com
WhatsApp: +86 13617732531