Ticket Type
Schedule
Pre-booking
Cost
Cruise ticket with meal(standard) (adult)
Departing around 09:30am

Shared capacity: 500 pax

Book at least 24 hours in advance

USD $41
Book
Cruise ticket with meal(western style) (adult)
Departing around 9:30am)

Shared capacity: 500 pax

Book at least 24 hours in advance

USD $43
Book
Cruise ticket with meal(local flavor) (adult)
Departing around 9:30am

Shared capacity: 500 pax

Book at least 24 hours in advance

USD $44
Book
Cruise ticket without meal (adult)
Departing around 09:30am

Shared capacity: 500 pax

Book at least 24 hours in advance

USD $37
Book
Children Fare
Children under 1.2 meters enjoy free trip (sharing seat with adults); between 1.2 - 1.49 meters at half adult rate; up to 1.5 meters at full adult rate.

Shared capacity: 150 pax

Book at least 24 hours in advance

USD $15
Book
Li River Cruise+Coach Transfer
Transfer from hotel in Guilin to Mopanshan Pier, and from Yangshuo to Guilin arriving around 6pm(sharing with groups).

Shared capacity: 200 pax

Book at least 24 hours in advance

USD $69
Book
Li River Cruise with 3 Star Ships
Tour Code: GLT-02

Ship Star: Li River Cruise - 3 Star Ships
Departure Time: 09:30am to 10:30
Cruise Journey: 4- 5 hours (approx.)
Departure Pier in Guilin: Mopanshan, 40km from Guilin city center
Ticket Type: E-ticket
Service language: English and Chinese
Ground Transfer: available on request with extra charge.
Notes Before Booking Li River Cruise
a) Timing: There are more than 20 ships departing daily between 9:30am and 10:30am. The exact departure time is determined based on the issuing time.
b) Seat number: Seats are assigned by Cruise Company at check in.
c) Lunch onboard is a Chinese style box meal including fish, chicken, egg, vegetable etc. And the cruise fares vary a $2-3 depending on which kind of meal you choose. For vegetarians, it is advisable to choose ticket without meal and take food on your own or enjoy a late lunch on arrival at Yangshuo.
d) Prices: peak season comes from Mar 1st to Oct 31st; Shoulder season is from Nov 1st to Feb 28th.
e) Cancellation policy: No penalty if canceled 3 days before departure; 10% penalty within 48 hours; and 30% penalty within 24 hours. ETripChina can cancel e-tickets on your behalf. For paper tickets, cancel directly at the Cruise Company before departure, considering ETripChina's working days.
Details of Li River Cruise with 3 Star Ships
Li River Cruise Itinerary - Li River cruise starts from the Mopanshan Pier which is 40 minutes away from Guilin city center. Cruise journey takes around 5 hours in autumn and winter days, 4 hours also in spring and summer days when water level is high. Passengers disembark at Longtoushan pier in Yangshuo around 1:30pm.
Facilities and services of 3 star ships - The newly decorated 3-star ships are put into use in 2016. All the seats upgrade to sofa or rosewood chairs; WiFi signal is also available onboard; Lunch changed from buffet to box meal for environmental protection.
How to book and collect tickets – choose the type of tickets and date, pay, and get the results from ETripChina. In the confirmation, we give you the QR code number, departure time of the cruise.
Ground transfer to and from Pier – Departure pier in Guilin is around 25 km from city center, taking a ride about 40 minutes. It is advisable to book a taxi from your hotel or book a private transfer to Mopanshan pier and back to Guilin.
What to see and do in Yangshuo: Li River cruises arrive at Longtoushan pier that near to the West Street of Yangshuo. The town worths a day or two for discovery, or even longer leisure vacations with many nice hotels in the scenic areas. Must see and do includes Impression Liu Sanjie, Yulong River Bamboo rafting/biking/hiking, Xianggong Mountain, Xingping Town, etc.
Map of Li River Cruise Route
Find location of Guilin City Center, Mopanshan Pier (磨盘山码头)and Terminus - Yangshuo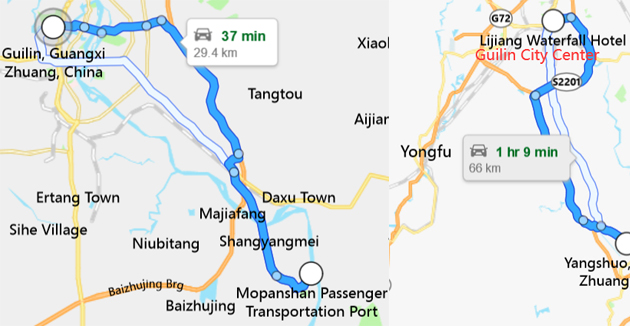 Photos of 3 Star Cruise Ships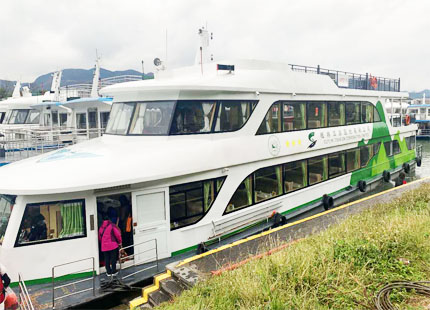 Chairs and Table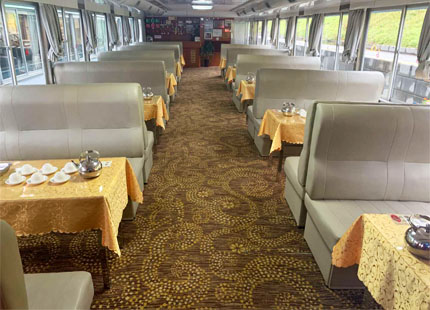 Washroom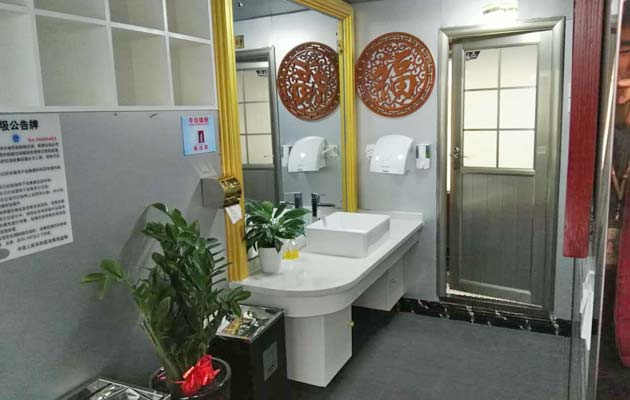 Box meal onboard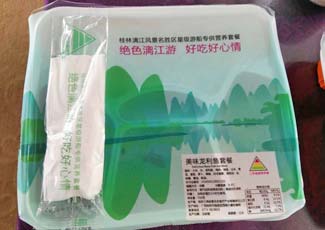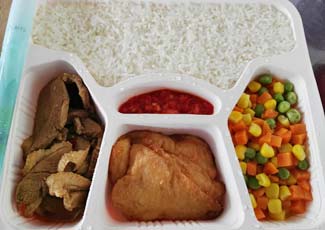 Price Inclusion & Exclusion

Price Includes:

Price excludes:

Transfer from and back to hotel (for ticket booking only).
Get a quick answer from ETripChina team
Contact Us

online customer service
Mon-Fri 9:00-18:00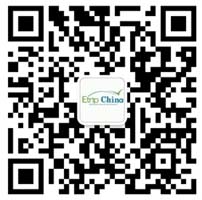 0086 773 5842555
Mon-Fri 9:00-18:00
email:contact@etripchina.com
Whatsapp: +86 13617732531
Frequently Asked Questions