Ticket Type
Schedule
Pre-booking
Cost
Children Ticket
For infant and children under 1.2 meters, plus $5 service fee

Shared capacity: 15 pax

Book at least 24 hours in advance

USD $32
Book
Standard Ticket
on lower decker, 6 seats per table, buffet lunch included

Shared capacity: 200 pax

Book at least 24 hours in advance

USD $58
Book
Deluxe Ticket
on upper decker, 4 seats per table, buffet lunch included

Shared capacity: 200 pax

Book at least 24 hours in advance

USD $62
Book
VIP Seat Ticket
front area on lower decker, 2 seats per table, buffet lunch included.

Shared capacity: 200 pax

Book at least 24 hours in advance

USD $65
Book
Tour Code: GLT-03
Ship Star: Li River Cruise - 4 Star Cruise Ships
Departure Time: 09:40am
Cruise Journey: 4- 5 hours (approx.)
Departure Pier in Guilin: Zhujiang pier, 25km from Guilin city center
Ticket Type: E- ticket
Service language: English and Chinese
Ground Transfer: Not included.
Details of Li River Cruise with 4 Star Ships
Li River Cruise Itinerary - 4 Star Cruise Ships start from the Zhujiang Pier which is 40 minutes away from Guilin city center. Cruise journey takes around 5 hours in autumn and winter days, 4 hours also in spring and summer days when water level is high. Passenger disembark at Longtoushan pier in Yangshuo around 1:30pm.
Choices of 4 star ships - Prices are valid for the sister ships of Tourist No. 2 (旅游2号), Tourist No. 6 (金天下旅游6号) and Huaxin No.8 (华鑫8号). Cruise company will operate one or all of them on the day depending on the final booking.
Onboard facilities and services- The ships are all double decker ship consisting of 80 seats – standard class, deluxe class and VIP seats which are spacious. The ship is equipped with central-controlled air-conditioner. Each table has IPAD and service bell. Buffet lunch onboard is exquisitely prepared by professional chef. It is surely the best among all ships operating on the route.
How to book 4 star ships - If book ticket only, ETripChina will issue and leave the tickets at the counter of Zhujiang Pier. We will inform you the ship details 1-3 days before (including exact departure time, where and how to collect the tickets. You arrive at least 30 minutes earlier to collect tickets and board the cruise on your own.
Transfer to Zhujiang Pier - Transfer from your hotel to Zhujiang Pier and Yangshuo back to Guilin is not included in. We suggest you booking a private transfer to Zhujiang pier and back to Guilin if interested in.
Map of the Li River Cruise

Find location of Guilin City Center, Zhujiang Pier and Terminus - Yangshuo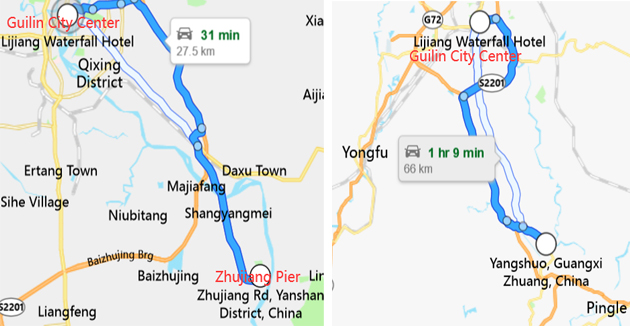 Photos of Li River Cruise - 4 Star Ships
lower deck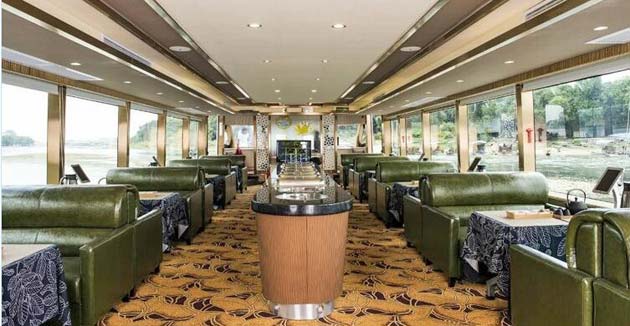 4 Star Cruise Ship buffet lunch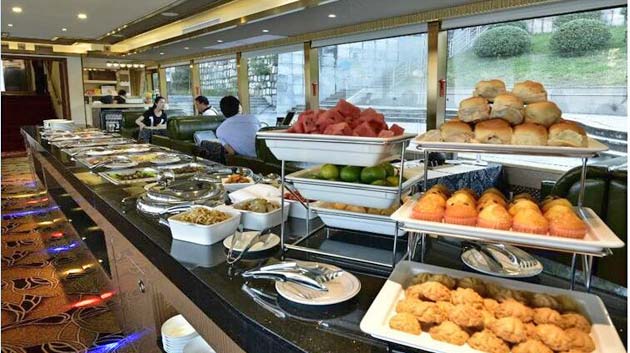 Deluxe Seat on the second decker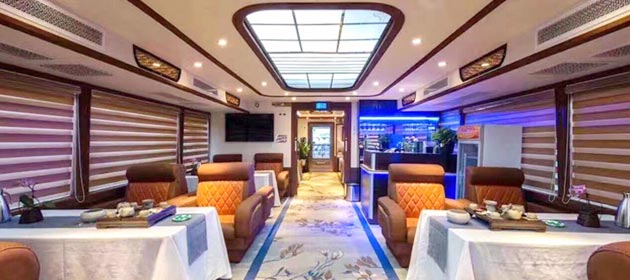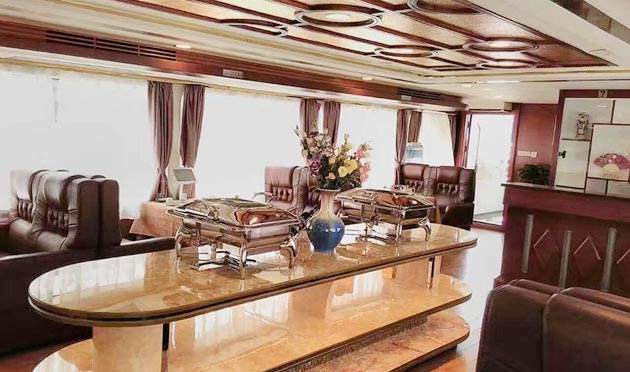 Notes for Booking 4 Star Ships
Departure time is 9:40am and might be changed due to temperate conditions.

Seat number: Seat number is not allowed to choose. It is assigned by Cruise Company when making reservation.

Lunch onboard is buffet.

It is advised to book at least 7 to 15 days prior to departure date.

Children under 2 years old, or within height of 1.2 meters can share seat with adult, but have to pay a CNY 30 at the dock for the buffet lunch.
Price Inclusion & Exclusion
Price Includes:

Price excludes:

Transfer from and back to hotel.




Photo Tour



View from VIP seat on the second decker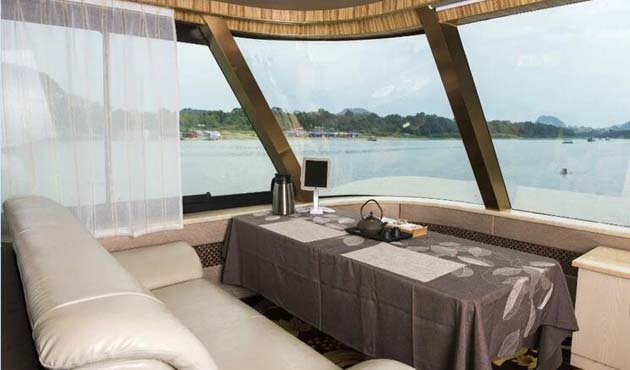 Scenery along Li River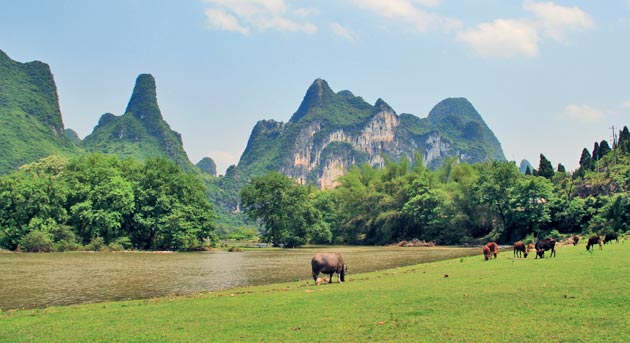 Get a quick answer from ETripChina team
Contact Us

online customer service
Mon-Fri 9:00-18:00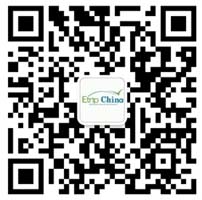 0086 773 5842555
Mon-Fri 9:00-18:00
email:contact@etripchina.com
Whatsapp: +86 13617732531
Frequently Asked Questions