Mia

Guide to Western Sichuan
2023-05-16
Mount Siguniang Introduction
Name in Chinese: 四姑娘山
Location: 220 km from Chengdu
Opening hours: all day
Mount Siguniang is a stunning mountain located in Rilong Town, Xiaojin County, Aba Tibetan and Qiang Autonomous Prefecture. Composed of four peaks covered with snow and ice year-round, it resembles four young girls with white veils. It is recognized as a national key scenic area, nature reserve, and 4A-level tourist attraction, and was also approved as a national geological park and listed as a World Heritage Site for Giant Panda Habitat in Sichuan. Many mountaineering teams from over 10 countries have successfully summited this mountain.
The core scenic spots of Siguniang National Park are the "Three Vallies and Four Peaks", which consist of Shuangqiao Gou (Shuangqiao Valley), Changping Gou (Changping Valley), Haizi Gou (Haizi Valley), Yaomei Peak, Sanguniang Mountain, Erguniang Mountain, and Daguniang Mountain. Yaomei Peak, the main peak of Mount Siguniang, is the highest peak of the Qionglai Mountains and the second highest peak in Sichuan. It is also known as the "Queen of Sichuan Mountains" and the "Eastern Holy Mountain".
Mount Siguniang is renowned for its stunning beauty, featuring towering mountain peaks that pierce the sky, adorned with glistening snow and ice. The foothills boast lush forests, verdant grasslands, and meandering streams, reminiscent of the picturesque landscapes found in the southern Alps of Europe. Prepare to be captivated by the awe-inspiring beauty of Mount Siguniang!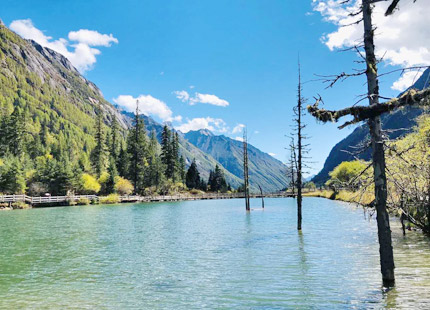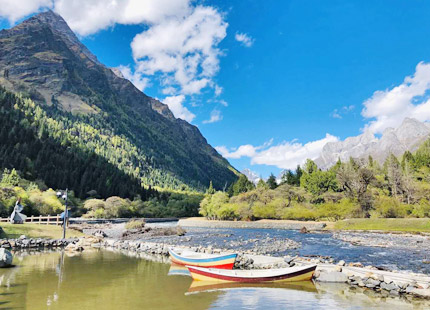 Main spots of Mount Siguniang
Shuangqiao Gou (Shuangqiao Valley)
Recommended: Take a scenic tour by sightseeing car
Recommended duration: One day
Suitable for: All ages
Highlights of the route: Hiking, high-altitude rafting, sightseeing, Alai's Book House

Shuangqiao Valley, one of the three valleys in the Mount Siguniang scenic area, offers the deepest exploration and most abundant scenery, making it an ideal destination for mass tourism. Spanning over 40 kilometers and covering approximately 216.6 square kilometers, this valley ranges from an elevation of about 2,900 meters at its entrance to a magnificent redwood forest at an altitude of 3,840 meters, showcasing an impressive vertical gain of nearly 1,000 meters. Its name originates from the two wooden bridges constructed by locals to facilitate passage—the Willow Bridge, crafted from willow, and the Convenient Bridge, constructed with redwood. With its steep and winding terrain, enveloped in lingering clouds and mist, the valley exudes an enchanting fairyland-like atmosphere.
Changping Gou(Changping Valley)
Recommended way to visit: Hiking + Horseback riding
Suggested visit time: One day
Route highlights:
1. Leisurely hiking (Suitable for all ages)
2. Camping at the campsite, hiking through the valley (Suitable for outdoor enthusiasts in their prime)
Changping Gou (Changping Valley), an ancient battlefield site, stretches for 29 kilometers and covers an area of about 100 square kilometers. This picturesque valley is adorned with 21 captivating attractions, including Lama Temple, Kushtan, Jiarong Waterfall, Muluozi, Pomiu Peak, and Luotuofeng.
Throughout the year, Changping Gou offers ever-changing landscapes, showcasing not only the breathtaking natural beauty but also the enchanting legends of Mount Siguniang and the rich ethnic customs developed by the Jiarong Tibetan people over centuries. For outdoor enthusiasts, Changping Gou is a paradise, serving as a crucial base camp for conquering the Sanguniang Peak and S Peaks, as well as a haven for rock climbing and ice climbing. Furthermore, from Changping Gou, you can embark on a journey to the nearby Bipeng Gou in Lixian County.
Haizi Gou (Haizi Valley)
Recommended way to visit: Hiking + Horseback riding
Suggested visit time: Half a day
Route highlights:
Leisurely hiking (Suitable for all ages)
Camping at the campsite, outdoor climbing (Suitable for outdoor enthusiasts in their prime)
Haizi Valley, the highest-altitude among the three valleys, stretches over 19.2 kilometers with an expansive area of 126.48 square kilometers. Nestled in Siguniangshan Town, its scenery sets it apart from Shuangqiao Valley and Changping Valley. Within Haizi Valley, you'll discover 12 viewing points and 46 scenic spots. The first half of the valley showcases picturesque alpine meadows, offering optimal viewpoints to appreciate the grandeur of Mount Siguniang and delighting photography enthusiasts. The latter half is characterized by the serene Haizi Lake, although its distance typically requires a full day to fully explore.
Haizi Valley welcomes campers and stands as an essential destination for mountaineers seeking to conquer the First Peak and Second Peak. Most climbers enter Haizigou and embark on a trek or horseback ride to reach Campsite No. 1 and Base Camp. From there, they launch their ascent to challenge the peaks, including the First Peak, Second Peak, Third Peak, and Main Peak.
Popular tours including Mount Siguniang
You can request a customized trip based on the itinerary by simply drop a message through the form at the end of this page.
Three Days in Mount Siguniang, Western Sichuan
Day 1: Chengdu - Balang Mountain - Mount Siguniang (Shuangqiao Valley) - Danba (Jiaju Tibetan Village)
Day 2: Danba (Jiaju Tibetan Village) - Moshi Park - Tagong Grassland - Yuzi West - Xinduqiao
Day 3: Xinduqiao - Muya Great Monastery - Siding Lake - Honghaizi - Chengdu
Four Days in Mount Siguniang and Seda, Western Sichuan
Day 1: Chengdu - Kangding - Siding Lake - Gedilam Sky City - Xinduqiao
Day 2: Xinduqiao - Tagong Grassland - Moshi Park - Seda
Day 3: Seda - Wengda - Guanyin Bridge - Danba
Day 4: Danba - Mount Siguniang (Shuangqiao Valley) - Chengdu
Travel tips for visiting Mount Siguniang
1. In high-altitude areas, avoid alcohol and strenuous exercise to prevent altitude sickness.
2. Dress appropriately for the typical high-altitude climate with cool mornings/evenings and hot midday temperatures.
3. Respect the religious beliefs and customs of the local Tibetan and Qiang ethnic groups.
4. Regular bus services operate from Chengdu's Chadianzi Bus Station to Siguniang Mountain Town, taking approximately 5-6 hours. If planning an independent travel, it is advisable to book tickets in advance: China Bus Tickets Booking – enjoy bus journey with ETripChina
Where to stay in Mount Siguniang
These locations provide convenient access to Mount Siguniang and its attractions, ensuring a pleasant stay while exploring the area. It is advisable to book your accommodation in advance, especially during peak travel seasons, to secure your desired lodging.
Siguniang Mountain Town: This town is situated at the base of Mount Siguniang and provides a wide range of accommodation options, including hotels, guesthouses, and hostels. Staying here would be convenient for accessing the mountain and exploring the surrounding area.
Shuangqiaogou(Shuangqao Valley): Located within Mount Siguniang, Shuangqiaogou has a few hotels and guesthouses here, allowing you to immerse yourself in the stunning surroundings.
Rilong Town: It is situated near the entrance to the mountain and offers a variety of hotels, guesthouses, and hostels to suit different budgets and preferences.
Get a quick answer from ETripChina team
Contact Us

online customer service
Mon-Fri 9:00-18:00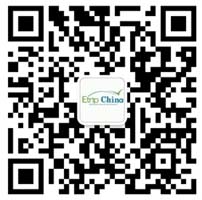 0086 773 5842555
Mon-Fri 9:00-18:00
email:contact@etripchina.com
WhatsApp: +86 13617732531