Ticket Type
Schedule
Pre-booking
Cost
Morning Ticket
Time limits for entry: 09:00 - 10:00

advance booking advisable: 7 days before

try last minute booking: 2 hours before entry

USD $
Book
Afternoon Ticket
Time limits for entry: 13:30 - 15:30

advance booking advisable: 7 days before

try last minute booking: 2 hours before entry

USD $
Book
Noon Ticket
Time limits for entry:10:00-13:30

advance booking advisable: 7 days before

try last minute booking: 2 hours before entry

USD $
Book
Summary
Tour Code: BJT-02
Name: Forbidden City 故宫, The Palace Museum 故宫博物院
Address:4 Jingshan Front St, Dongcheng, Beijing, China
Ticket Type: E-ticket, No need to collect paper ticket
ETripChina will confirm the booking via email maximum to 24 hours.
Further Information
Why book Forbidden City entrance ticket in advance?
1. A limit of 8,000 visitors per day was set up during the period of Covid-19 epidemic prevention and the number is far more less than the actual demanding.
2. Visitors personal information including full name, valid travel ID is required at booking and check in.
3. Official site of Forbidden City offers online booking in Chinese only.
Introduction of Forbidden City
Forbidden City (Palace Museum 故宫博物院. Purple Forbidden City 紫禁城) was home to 24 Emperors for almost 500 years from Qing Dynasty to Ming Dynasty. The complex is well preserved with 980 buildings over 720,000 m2. Great squares, halls, gates, gardens and courtyards form a 'city within a city'. It is the largest and best-preserved wooden structure complex in the world, ranking top of "World's 10 Most Beautiful Royal Palaces". Since 1925, this imperial palace had been turned into a museum exhibiting extensive collections of artifacts and artwork.
The Forbidden City is rectangle with 961 meters from north to south and 753 meters from east to west. All the important gates and halls of were arranged symmetrically on the north-south central axis to represent the supreme power of the emperor. Visiting route in the Palace follow the axis from South Gate to North Gate. The north –south central axis remains the central axis of Beijing and extends to the south through Tiananmen Gate to Tianmen Square, and on to Yongdingmen. To the north, it extends through Jinshan Hill to the Bell and Drum Towers. Visitors can also fulfill a walking tour from Tiananmen Square, Forbidden City, Jingshan Park and onto the Bell Tower at Hutong area.
Being a must-do for all visitors to Beijing, the Forbidden City has seen over 15 million people annually since 2012. Since 2017, a limit of 80,000 visitors per days was set and advanced booking under name and ID number was required. It is advisable to book in advance to have a complete tour in Beijing.

Location map of Forbidden City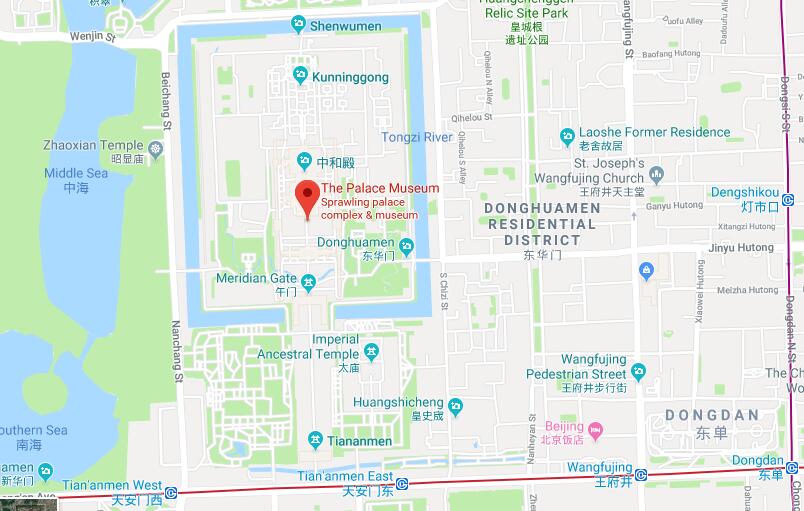 Travel Tips for visitors to Forbidden City: `
1. To better understand the background, the story and culture of the palace, we recommend you a private day tour.
2. If you have done some research, an audio guide on site may also be very helpful.
3. Visiting order is set from South to North, and most of the people see the main halls along the axis with a garden at the end of the tour for around two hours. But for in-depth tour, prepare more time to discover some less crowded halls, or treasure exhibition including the Clocks Gallery, Treasures Gallery, the Paintings and Calligraphy Gallery, the Porcelain and Ceramics Gallery, Bronzeware Gallery, etc.
Download a two hour visit plan, half day visit plan and one day visit plan.
Things to Know before Booking Tickets of Forbidden City
1. Please ensure that all travelers' passport numbers and full names must be exactly same as that shown on their passports. Otherwise, it is not allowed to collect tickets and go in the palace.
2. Tickets have date, morning hour or after hour printed on as requested. If changes occur, please request a cancellation, or change as soon by the latest of 20:00pm on the day. ETripChina cannot give you a guarantee until we have successfully changed or cancelled.
3. For group booking, all visitors must enter the museum together. If not, please book separately to avoid hassles
4. Smart luggage storage service is available. Visitors can check in at south gate and collect at north gate.
5. The museum is designed to be friendly to wheelchair users, with barrier-free access. The museum offers free wheelchairs (¥500 deposit) and pushchairs/strollers (¥300 deposit). Better to take your own if it is a must.
6. Keep your treasures well during your visit. For urgent matter, you can reach police station in the palace at 010-85007495; announcement at 010-85007424
Price Inclusion
Entrance Fee
Service Fee and bank charge
Price Exclusion
Transfer from and back to hotel.
Exhibitions in the palace.
Forbidden City Pictures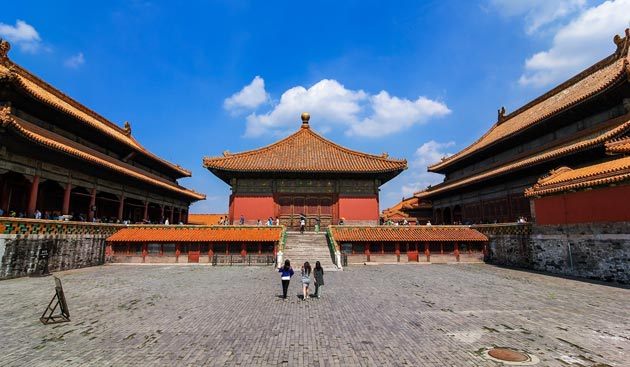 Get a quick answer from ETripChina experts
Contact Us

online customer service
Mon-Sun 7:00-23:00

0086 773 5842555
Mon-Sun 7:00-23:00
email:contact@etripchina.com
skype: etripchina
Feedback

Frequently Asked Questions
0 Satisfaction Rate
Reviews of our former customers is a collection of tips and advices to help you plan a perfect China Trip. Find helpful reviews from the list and we would appreciate your share when your tour complete.