Mia

Beijing Travel Guide
2023-07-19
Tiananmen Square Introduction
Name in Chinese: 天安门广场 Pinyin: Tiān'ānmén Guǎngchǎng
History: Constructed in Ming Dynasty (1420 A.D.), the area was doubled in 1958
Area: 440,000 sq. meters (44 Hectares), 880m x 500m
Top: World's largest city square
Opening hours: 05:00-22:00
Admission: Free
Advance Reservation: necessary (Book Beijing Tiananmen Square Tickets, Flag-raising Ceremony)
Tiananmen Square, situated at the heart of Beijing along the north-south axis, is an iconic public square that spans an impressive 880 meters from north to south and 500 meters from east to west, encompassing a vast area of 440,000 square meters (44 hectares). As the largest city square in the world, Tiananmen Square holds immense historical, political, and cultural significance, attracting both locals and visitors alike.
One of its most momentous events was when Chairman Mao, from a rostrum on the Gate of Heavenly Peace, declared the establishment of the People's Republic of China in 1949, a pivotal moment in Chinese history. To commemorate this historic occasion, a striking portrait of Chairman Mao adorns the square, reminding all of his significant contributions to the nation.
The Square is surrounded by prominent landmarks that showcase the richness of China's culture and heritage. To the north, visitors are greeted by the majestic Forbidden City, the Working People's Cultural Palace, the Giant Portrait of Mao, Sun Yat-Sen Park, the Gate of Heavenly Peace, and the Avenue of Eternal Peace. The west side features the impressive Great Hall of the People, while on the eastern side stands the distinguished National Museum of China, renowned for housing an extensive collection of ancient and contemporary cultural relics.
Located on the southern end of the Square is the solemn Chairman Mao's Mausoleum, a revered site where tens of thousands of Chinese pay their respects to the late leader. In the center of the Square stands the Monument of the People's Heroes, a towering 118-foot-high granite monument that commemorates the valor and sacrifice of those who contributed to the nation's progress.
Tiananmen Square is not only a historical and cultural hub but also a place of daily significance. The flag raising and lowering ceremony, performed by white-gloved soldiers who march with precision and grace, takes place at sunrise and sunset, evoking a sense of pride and unity among spectators. This solemn ceremony serves as a reminder of China's national identity and values.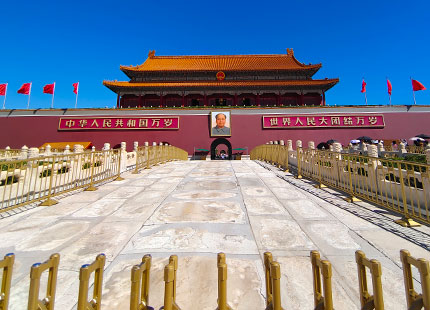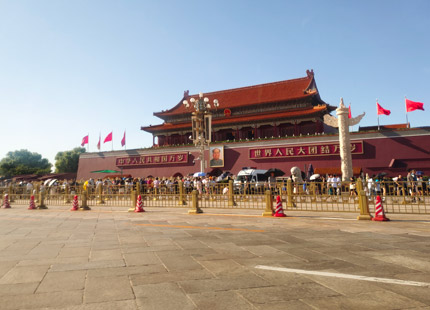 Tiananmen Square travel tips
1. Flag-raising time varies daily. To witness the ceremony, reserve a slot. From Dec 31 to Jan 10 and Jun 7 to Jun 21, it's at 7:36 AM and 4:46 PM. From Jan 11 to Jun 6, it advances by about 1 min daily from 7:36 AM to 4:36 AM. From Jun 22 to Dec 30, it delays by 52 seconds daily from 4:46 PM to 7:36 AM.
2. For a quicker security check, avoid carrying too many belongings while watching the flag-raising.
3. Recommended routes:
a) Flag-raising: Tiananmen Square (ceremony) - Jinshui Bridge - Forbidden City - Jingshan Park.
b) Flag-lowering: National Museum of China - Tiananmen Square - ceremony area.
4. Tiananmen Square has 5 entrance and exit locations. The subway stations are Tiananmen East and Tiananmen West. Buses stop at East Square Station and West Square Station. Walking tourists can also access the square through the underground passage from Qianmen Avenue. If you are traveling independently, it's best to plan your tourist route based on the map for the most current and suitable options.
Get a quick answer from ETripChina team
Contact Us

online customer service
Mon-Fri 9:00-18:00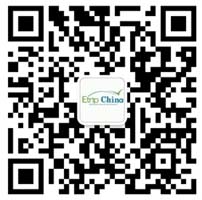 0086 773 5842555
Mon-Fri 9:00-18:00
email:contact@etripchina.com
WhatsApp: +86 13617732531