Mia

Beijing Travel Guide
2023-07-19
Introduction of China National Museum
Name: China National Museum (Simplified Chinese: 中国国家博物馆; Traditional Chinese: 中國國家博物館; Pinyin: Zhōngguó guójiā bówùguǎn)
Address: 16 East Changan Street, Dongcheng District, Beijing, China (中国北京东城区东长安街16号)
Opening Hours: Daily from 8:30 AM to 16:30 PM
Admission: Free
Reservation: Necessary.
The China National Museum, a symbol of China's rich cultural heritage, offers an extensive collection of historical artifacts, artworks, and relics spanning over 5,000 years. It houses valuable objects from the ancient Yuanmou era, dating back 1,700,000 years, showcasing the depth and diversity of China's history.
With its massive floor area of 191,900 square meters, the museum provides an immersive experience for visitors to delve into China's past and gain a deeper understanding of its cultural legacy.
As an educational institution, the museum plays a crucial role in promoting historical and cultural knowledge. It serves as a center for archaeological research and scientific study, contributing to the exploration and preservation of China's cultural heritage.
The museum's galleries are carefully curated to present various aspects of Chinese culture, including ancient Chinese porcelain art, Buddhist culture, international art, and more. Each exhibit provides valuable insights into different historical periods, artistic expressions, and cultural exchanges.
For enthusiasts and scholars of history and culture, the China National Museum is a treasure trove of knowledge and a place where one can immerse themselves in the richness of China's heritage. From the earliest human traces to the accomplishments of past civilizations, the museum offers a fascinating journey through time.
Photos from their official webiste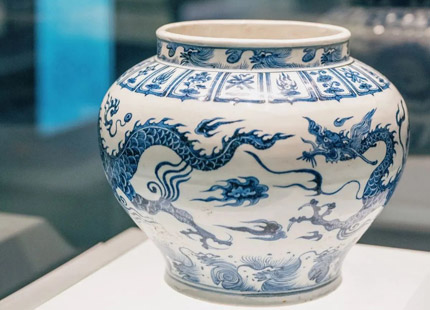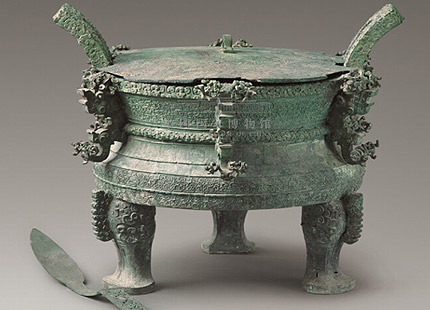 Treasures in the National Museum of China:
a) Simuwu Ding (司母戊鼎): A precious treasure, this large Shang dynasty bronze vessel dates back to around the 12th century BCE. Its intricate engravings hold historical significance as an artifact of ancient China.
b) Fangzun of the Four Sheep (四羊方尊): An important ceremonial vessel used in ancient monarchs' worship rituals, representing ancient Chinese bronze vessels. It was created during the late Western Zhou dynasty, over 3000 years old, with a unique form featuring four sheep legs symbolizing ancient divine beasts.
c) "Li Gui" Bronze (西周利簋): An ancient bronze utensil dating back approximately 3052 to 2777 years BCE. It is the oldest known Western Zhou bronze to date, with a distinctive shape representing the ancient Chinese conception of a round sky and a square earth.
d) Nine Dragons and Nine Phoenixes Crown (九龙九凤冠): A phoenix crown of Ming dynasty's Prince Xiaojing's empress, over 600 years old. The most classic empress crown in Chinese history, adorned with 115 uncut rubies and 4414 pearls.
National Museum travel tips
1. Having a China National Museum reservation allows direct access to the Tiananmen Square flag-lowering ceremony, no additional booking required.
2. China National Museum is free but requires advance online reservation. Sales start 7 days before at 5 PM Beijing time. If planning a trip on your own, book on the official website using WeChat mini program at exact time or contact ETripChina at least 8 days before for assistance. After sales begin, chances of success are slim.
3. Transportation: You can take Subway Line 1, Tiananmen East Station, Exit C/D (recommended). For other bus routes, refer to the map for updated information.
4. Travel Light! Suitcases larger than 40 centimeters must be stored at the baggage counter before entering the China National Museum, with a fee required. The security check is stringent, similar to airport procedures.
5. Museum closed on Mondays, except on statutory holidays.
6. Inside the museum, there are food and coffee for sale, and you can also rent charging power banks.
Get a quick answer from ETripChina team
Contact Us

online customer service
Mon-Fri 9:00-18:00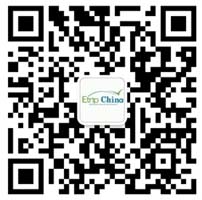 0086 773 5842555
Mon-Fri 9:00-18:00
email:contact@etripchina.com
WhatsApp: +86 13617732531