Amy

Guilin Travel Guide
2022-06-02
Introduction of Guilin Longji Rice Terraces
Longji, also known as the Longji Rice Terraces, is a scenic area located in Longsheng County, Guilin, China. The rice terraces in beautiful curves cascade down the hillsides, creating a picturesque landscape. It has been one of the popular destinations in Guilin, especially for hiking and photography lovers.

The Longji Rice Terraces scenic area covers an area of about 66 square kilometers and thirteen villages. The main tourist spots are Jinkeng Dazhai Area (金坑大寨景区), Ping'an Zhuang Village (平安壮寨), Guzhuang Village (古壮寨), and Huangluo Yao Village (黄洛瑶寨).

The rice terraces were originally built by the Zhuang and Yao minority groups more than 650 years ago. The terraces were designed to make the most of the hilly terrain and to provide a way to cultivate rice in the area's steep mountains. Today, visitors can hike along the terraces to get a closer look at the stunning scenery and to learn about the local culture and customs.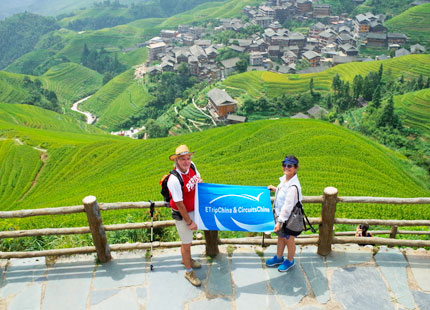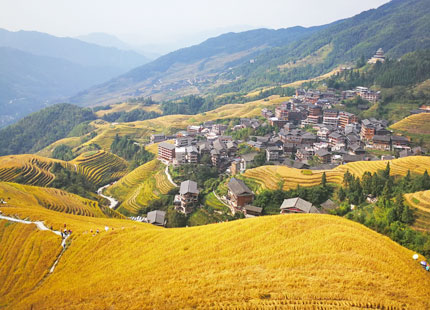 How to visit Longji Rice Terraces
Decide which village to go.
Jingkeng area has the largest scale of terraces fields. The newly built cable car offers a good panoramic view and make the trip easier. It is a good choice for one day sightseeing tour from Guilin city. If you want a sunrise, sunset shot, stay overnight here. Hotel choices are many in recently years. Ping'an Village is the first spot opened to tourist. It is smaller than Jinkeng but offers a better chance for a portrait of the terraces. The view of terraces in mist during the rainy season are incomparable to other villages. Guzhuang village is not so impressive comparing to Ping'an and Jingkeng, but more suitable for those who want an easier trip. While the Huangluo Yao village performs long-hair show.
Choose the way of travel.
Longji is about 90 km away from Guilin city. There are frequent buses available from Qintan bus station in west of Guilin. To save time and guarantee the comfort, a day car rental with driver or guided tour in this area is recommended.
Guilin to Longji Rice Terraces Fields Private Transfer (Round Trip)

Guilin Day Tour to Longji Terraces Fields and Pingan Village

Plan an overnight stay in Longji.
Longsheng is an ideal place for hiking and photography lovers. Good photo chances are always at the moments of sunrise and sunset. An overnight stay is recommended at either Pingan village or Tiantouzhai at Jinkeng area.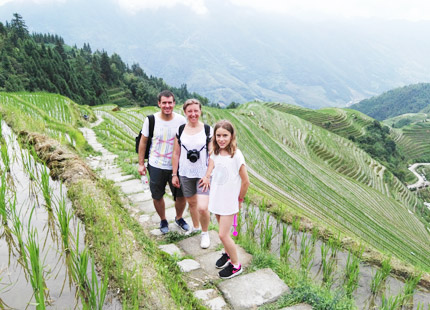 The most beautiful season.
The best time to visit Longji Rice Terraces is during the spring (April and May) and autumn (September and October) months. During these seasons, the weather is pleasant, and the terraces are at their most beautiful with lush greenery in the spring and golden rice paddies in the autumn.
Note: if possible, avoid the two biggest public holidays, from April 29th to May 5th, Oct 1st to 7th.
Get a quick answer from ETripChina team
Contact Us

online customer service
Mon-Fri 9:00-18:00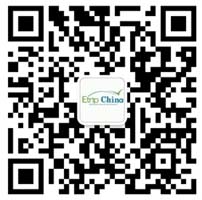 0086 773 5842555
Mon-Fri 9:00-18:00
email:contact@etripchina.com
WhatsApp: +86 13617732531