Ticket Type
Schedule
Pre-booking
Cost
Row 7-9
17:15pm-18:25pm; 19:30pm-20:40pm

Shared capacity: 10 pax

Book at least 5 hours in advance

USD $128
Book
Row 5,6,11,12
17:15pm-18:25pm; 19:30pm-20:40pm

Shared capacity: 10 pax

Book at least 5 hours in advance

USD $70
Book
Row1-4,13-16,17-22
17:15pm-18:25pm; 19:30pm-20:40pm

Shared capacity: 10 pax

Book at least 5 hours in advance

USD $56
Book
Side Seat and upstairs
17:15pm-18:25pm; 19:30pm-20:40pm

Shared capacity: 10 pax

Book at least 5 hours in advance

USD $41
Book
Summary
Tour Code: BJT-01
Show: The Legend of Kung Fu 功夫秀
Theatre: Red Theatre 红剧场
Show Time: 17:15pm-18:25pm; 19:30pm-20:40pm
Address: 44 Xing Fu Da Jie, Dongcheng District, Beijing北京东城区幸福大街44号
Ticket Type: E-ticket
Further Information
Introduction of Kung Fu Show
Kung fu (or wushu) refers to Chinese martial arts that has developed over centuries in China. Its influences can be found in books and in performance arts historically, in television and movies over 21st century. Films of Crouching Tiger, Hidden Dragon and Hero gain international audience in recent years, making the Kung fu visit in China an attractive experience.
The Legend of Kung Fu in Beijing meets all your interests of Chinese martial arts. The show always filled the seats at Red Theatre since it started in 2004. The best kung fu practitioners from all across China will represent you Chinese martial arts, traditional and modern dance, and Chinese acrobatics while you enjoy a touching story of a young monk who dreams of one day becoming a Kung Fu master.
How to Get to Red Theatre
private transfer can be arranged on your request with extra cost depending on your hotel location.
Public bus includes line 6, 8, 34, 35, 36, 41, 60, 116, 705, 707, 743, 807, 822, 957, 957, 958. Please find a location map of Red Theatre below.
Red Theatre is located 1000m away from Tiantandongmen station on subway line 5 which is next to the east entrance of the Temple of Heaven.
Location map of Red Theatre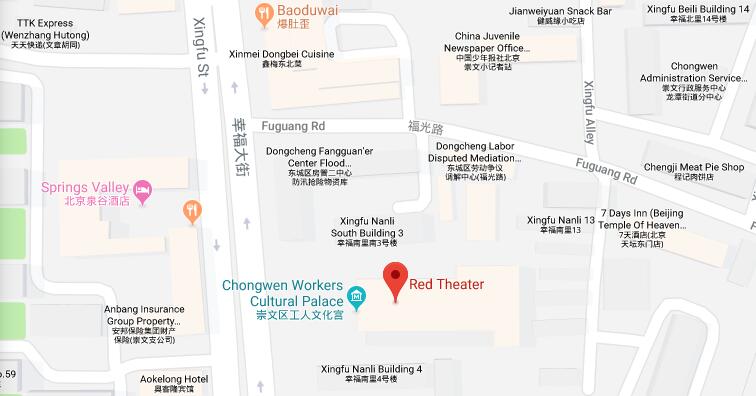 Notes
1. Can I choose the seat: you can choose the type of seat but the seat and row number will be assigned by Show Company according to the booking number.
2. Booking procedures: Choose the seat type and follow the instructions to fill in information and pay; ETripChina book and send you confirmation number; Collect ticket on site 30 minutes prior and enjoy the show.
Price Inclusion
Ticket rate
Booking fee
Price Exclusion
Transfer from and back to hotel
Kung Fu Show Pictures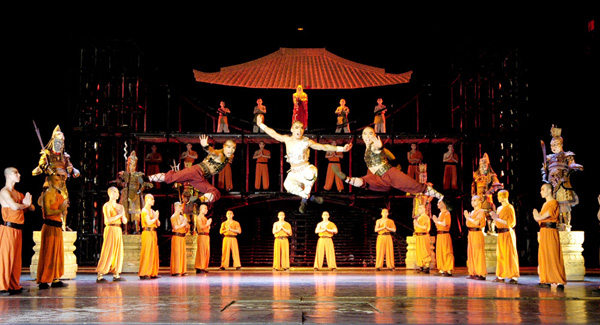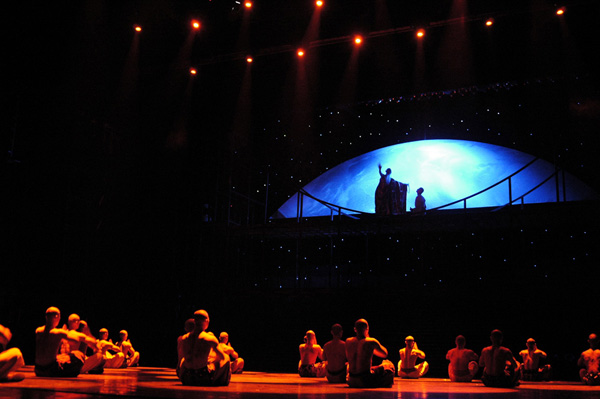 Get a quick answer from ETripChina team
Contact Us

online customer service
Mon-Sun 7:00-23:00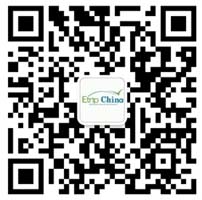 0086 773 5842555
Mon-Sun 7:00-23:00
email:contact@etripchina.com
skype: etripchina
Feedback

Frequently Asked Questions
0 Satisfaction Rate
Reviews of our former customers is a collection of tips and advices to help you plan a perfect China Trip. Find helpful reviews from the list and we would appreciate your share when your tour complete.